Learn how interactive technology can maximize your investment in digital signs.
As companies begin leveraging the benefits of digital signs throughout their organization, they must have the information they need to maximize their investment. Immersive digital signs and touchscreen wayfinders offer a wide range of benefits beyond static visual displays. Using interactive technology, digital signs can improve process efficiency, earn revenue and build better relationships with your customers. Whether your organization is a hotel, retail space, hospital, university, public institution, or signage company, below are 10 of the top benefits digital signs or wayfinders deliver.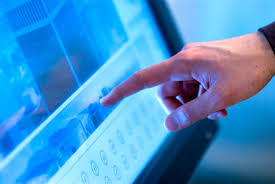 1. Create attention-grabbing displays
Static digital displays are a thing of the past. Today, digital signs and wayfinders provide interactive, multi-media visuals that respond to touch or body motion. Visual content such as videos or messages that respond to motion gestures engages, entertains and captivates your audience. Move beyond your static display, and learn how Lusens uses leading-edge technology to build immersive displays or wayfinders for your organization.
Save time redirecting customers
Digital wayfinders provide your customers or visitors with easy-to-access information that gets them going where they need to be. Linked with interactive floor plans, directories and databases, wayfinders provide users with step-by-step instructions and maps so that they have an easy time finding what or who they're looking for. And, if they have any questions or need extra assistance, they can be automatically connected with your customer service or security departments.
Get the data you need to understand what your customers want
When your customers interact with your Wayfinder or digital sign, you can collect data to learn more about what your customers are most interested in. Know what the top searches are in your Wayfinder, or what digital content or interactive advertisements your customers engage with the most.
Keep your organization's brand consistent, clean and modern
Unlike print, digital signs are easy to update and keep current, and are one of the best ways to showcase your organization's brand. Go beyond displaying your logo and provide a short video that demonstrates your vision and values. Provide success stories, helpful tips or advice through eye-catching displays so that your clients, patients or visitors can learn more about your products and services and who you are as an organization.
Generate revenue from your digital signs or wayfinders
If you have a space that attracts a high amount of foot traffic, an interactive digital display is a strategic place to introduce advertising or sponsorship opportunities you have with other organizations. Incorporating advertisements for relevant products or services amongst your own organization's messages will keep your content fresh and provide you with a way to generate revenue from your digital sign.
Connect with employees on the move
It's easy to forget the internal uses of a digital sign or wayfinder for your own employees. Sales representatives, healthcare workers and cleaning staff are just some roles that are typically hard to reach with information because they aren't behind a computer all day. Use a digital sign to send important messages to your employees as they move about their daily work or take a break. Digital signs and wayfinders can display reminders to your employees about events or training, ensuring that all your teams are engaged in your corporate culture.
Hold your customer's attention with a video
Lines, elevators or seating areas are the best opportunities to capture the attention of an audience. They are willing and waiting – literally. Static digital displays usually only show a few images on rotation for a few seconds, while interactive displays that support multi-media captivate viewers for much longer durations. Videos naturally keep your attention much longer than stills. Digital wayfinders can support video or animations like pause and zoom effects to keep your audience engaged.
Keep your customers, patients, or visitors happy while they wait
When your customers are waiting it's not only an opportunity to grab their attention but also a moment where you can keep them happy and deliver an exceptional service experience. If they are waiting for a reservation, clinic appointment or service, keep them calm and eliminate frustration by displaying wait times. Providing useful and entertaining information not only keeps them happy but can also minimize their perceived wait time.
Provide useful information your customers need
Digital signs and wayfinders have the ability to deliver so much more than directions and static advertisements. They can display a series of interactive multi-media so that your customers and visitors can learn more about a product, service or organization's history. Whether it's through a search function or interactive learning experiences, it's important to deliver timely, relevant information that your customers need.
Provide print take-away options
Some organizations need their customers to leave with take-away information. What most don't realize is that digital wayfinders have the ability to print directions, instructions or product information for their users to take away. Give your customers or visitors the information they need on the go.   
Learning more about Lusens can create a successful wayfinder for your organization.
The Top Ten Benefits of Digital Signs and Wayfinders