Use of interactive and immersive technologies for branded experiences, promotion and marketing
Companies are always on a lookout for novel and unique ways to advance their brands so that they could steer ahead of their rivals in the market. Their idea behind creating campaigns for the brand promotion is to capture the attention of the prospective consumers by presenting the products in a way that draws them. The application of immersive technologies for marketing and advertising can be quite useful and help you captivate the user's attention for a longer time thus enhancing the visibility of the brand experiences or the product and services.
The advertisement boards and panels are a common sight on the roads, railway stations and airports. If you use interactive systems for advertising, where the user does not only see the ads but also interacts with the media, you will be in better position to draw and hold the consumers. It is just an instance and it is possible to think of several such ways of marketing campaigns using such immersive technologies. There are numerous companies who offer products and services which can be used for the purpose. Think of using an digital floor where your advertisements are being played with immersive media contents, you can easily impress and win more clients than ever.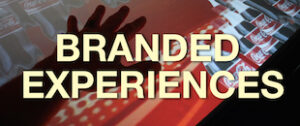 Brand promotion using immersive systems and products
A consumer measures a company by the quality of experience he or she derives by using their product or the services. If the consumers are able to derive the user experience from the advertisements, it is not an uphill task to convince them that a similar experience will be offered by the products and services as well. For the promotion of your brand, you can choose among the several products which are offered in the market, like interactive windows, table-top interactive displays, interactive floor systems and many more.
There are a few barriers to entry for a brand when they are exploring immersive environments and related technologies. The biggest and foremost barrier is expertise. It takes a profound knowledge of the associated technologies, along with a thorough understanding of how these technologies should be used to create maximum impact, something that a well-established digital agency can take care of in a very short time. They have the capacity that you need, and they can deliver the results you want!
Pick an expert digital agency for the best immersive branded experiences
When we talk about interactive and immersive technologies and the products related to it, they can be easily procured for your brand through the use of a reputed digital agency. Bringing together the immersive technologies and visual art is their forte.
Quality agencies have developed numerous products and services and have been used in many industries for a host of purposes, which also include providing branded experiences to the users. Products like multi-touch tables and interactive floor systems have made brand promotion more interactive and immersive thus enhancing the visibility of the business and its ability to draw more clients and consumers than ever before. In a very short time, their services will quickly become integral to your brand.
Branded Experiences that People Will Remember