Why architects and interior designers need to understand the potential of video wall experiences to stay competitive.
Talented architects and interior designers go beyond creating spaces – they create experiences. The way a space is designed can create an atmosphere that affects us physically and emotionally. The ultimate experience of space is to transport users through time and place – challenging them to make connections and discoveries beyond the walls they are in.
From smart homes to smart cities – technology is rede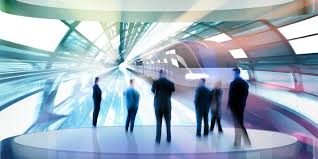 fining interior design, architecture and urban planning. Augmented reality, interactive infrastructure and digital overlays are creating interactions between people and places that expand the possibilities of our experience of space. Technology has reshaped our expectations of the environment around us – a critical consideration architects and interior designers need to consider when creating or redesigning a space.
Stay competitive and understand the potential of immersive experiences
Immersive technology is not only redefining architecture and interior design, it is revolutionizing how we learn, make discoveries, connect with our environment and connect with those around us. The virtual and augmented reality industry is one of the fastest growing in the world and is showing no signs of stopping. Interactive technology is already a natural part of a number of industries, and leaders across diverse sectors are increasingly looking to understand new applications for immersive design. Architects and interior designers need to understand how they can implement interactive technologies into their designs – an important step to staying competitive.
How immersive experiences and specificly, video walls connect users to new possibilities
The goal of an immersive experience is for those who are moving through the space to be completely and actively involved in their experience. Unlike non-immersive environments, digitally immersive experiences invite users to participate in designs through the element of discovery. Users connect with immersive designs on a number of different levels: experientially, emotionally, intellectually, responsively and physically. Successful experiences leave the user motivated to learn and discover more. An immersive design could be an interactive table, floor, window, wall or kiosk that uses touch, body motion and gesture experiences. By blending art with technology, architects and interior designers can integrate immersive experiences seamlessly into pre-existing architecture or designs – creating a fluid and cohesive space for their clients.
Why interactive storytelling is a successful form of engagement
Research shows that effective storytelling can change our beliefs and behaviours and most importantly, motivate us to act. Storytelling uses a narrative with images or words to connect with and entertain audiences. Digitally immersive designs bring clients into a full multi-media, multi-sensory experience that can entertain, educate and inspire depending on the goal of the design. Using technology, such as touch and gesture sensors, immersive environments have the ability to connect with the senses, leaving an impact that resonates far after a user has completed their experience. Immersive experiences allow architects and interior designers to create spaces that tell the story of their clients, showcasing the mission, vision and values of the companies they design for.
Interior design clients who benefit from immersive technology
Clients from diverse industries and sectors benefit from immersive technology, some of which may surprise interior designers. Lusens, a global leader in immersive and interactive multimedia experiences, has worked with hotels, casinos, retail stores, hospitals, museums, universities, sport venues and more. Whether it's benefiting from play while recovering in the hospital, or learning more about your client's brand journey, interior designers can use immersive technology to achieve their client's vision and deliver an experience to users that provides benefits beyond what any other spatial experience can do.   
Overcome barriers to design innovation
Without the right expertise and experience, creating a customizable immersive experience is not easy. Working with experts in immersive technologies is vital to ensuring a client's goals are realized and provides architects and interior designers with the the resources needed to bring an immersive experience to life. Companies like Lusens have talented teams of engineers and creative designers who are highly experienced and successful at creating customizable responsive environments. They work in close partnership with architects and interior designers to realize the design vision and exceed client expectations. Lusens also provides ongoing support to help keep experiences and content up-to-date. 
If you are looking to incorporate interactive technology in your next design project, Lusens offers an in-depth consultation process to identify how your client can benefit from creating an interactive experience. Speak with one of our experts and learn more about how you can create a truly unique responsive environment for your clients.
Video Wall Technology is Redefining Interior Design